News |
Successful launch of new Stratton Recruitment website and database
Cambridge Kinetics has been working with Stratton Recruitment, a growing specialist recruitment firm to launch a new website and revitalise their branding and visual identity.
Working closely with the team at Stratton Recruitment, Cambridge Kinetics were able to transform the existing website and branding into a cohesive and modern design, and deliver a web-based recruitment management tool fit for a growing recruitment agency. Having launched earlier in 2021, the website has proved a success, and Stratton Recruitment has widely adopted the corresponding systems and branding updates across their portfolio.
Stratton Recruitment is a rapidly expanding recruitment agency, and having recently taken on new employees they felt their website needed a visual refresh to better reflect their expertise and quality of service. Cambridge Kinetics listened carefully to understand what Stratton Recruitment was about, the overall aims and goals, and the vision for the new website. Working together, a new branding and technological strategy was devised that enabled them to accomplish their goals, with a new website design constructed with cohesiveness, visual design, and technical and SEO performance in mind.
In particular, we focused on incorporating a recruitment data management system into the WordPress website, performing bespoke customisations and optimising the database to ensure it exactly met the company's aims and effectively allowed staff to manage the recruitment pipeline.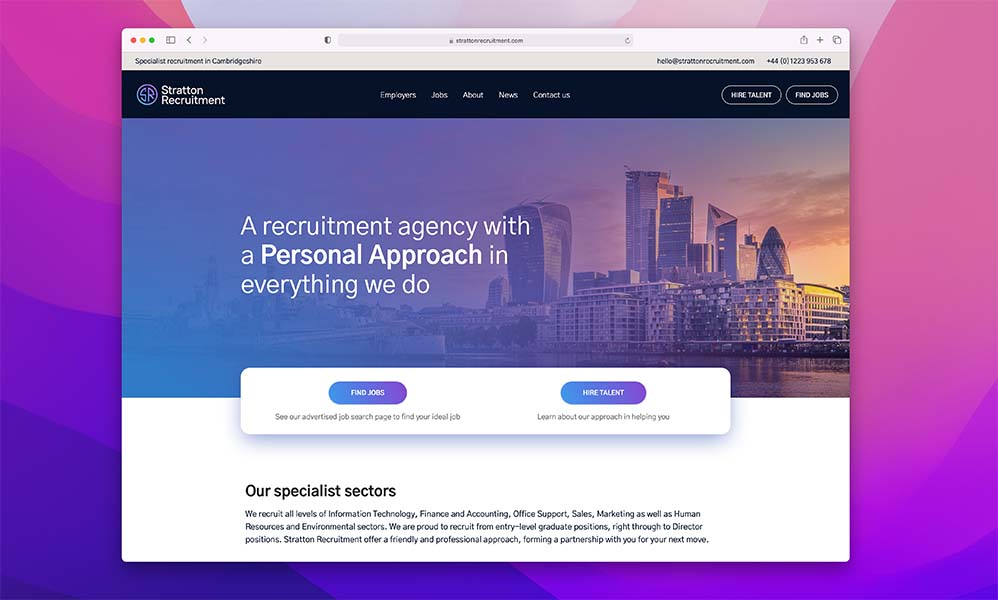 Tom Knell, Director at Stratton Recruitment says "Having worked with several software development companies over the years, Cambridge Kinetics has been by far the very best. They have exceeded our expectations and more importantly, brought our vision to reality. Jason's approach is very professional and helps simplify the whole process without over complicating it. The communication was on point, and we were also very impressed with the speed of completion."
" They have exceeded our expectations, and more importantly, brought our vision to reality. — Tom Knell, Stratton Recruitment
"This has been an excellent launch, and I'm proud of what Cambridge Kinetics has been able to deliver. The new branding and website system set Stratton Recruitment up for a bright future, and better reflects the specialist services they offer", says Jason Mashinchi, Managing Director at Cambridge Kinetics.
The team at Cambridge Kinetics working on this project includes expertise in digital design, web development, enterprise systems and software testing.
For more information or media enquiries, please contact: info@cambridgekinetics.com or call 01223 626262.